London is a fantastic city that has so much to offer for adults and kids alike. It is bursting with culture, history, quirky finds and a suprisingly large of green, open spaces which makes it a must for young families. As regular visitors to the big smoke, I thought we would compile a list of our top ten things to do in London with the help of a few fellow travel bloggers.
1) KidZania
OK, so I feel pretty uncultured putting this first with all the wondrous educational opportunities that the fine city of London has to offer. But this place is pretty awesome.
Designed for kids aged 4-14, this little kid city offers real life activities for your little ones to participate and experience. For example, they get to be a firefighter, surgeon, fashion designer, police office and shop assistant, whatever their little hearts desire. There are many many to choose from and I was just overwhelmed with all the things for them to do. They edven have their own currency where the kids get paid for each job and then go to the atm to buy everyday bits and bobs. Parents get a real kick seeing their kids dress up and actually get to act out their dream careers. There is just something uber cute about seeing your tiny humans dressed up as adults. We all just loved it and will definately come back for more!
Kids. Massive toy shops. Need I say more? The free tutorials were fab and the kids even got some freebies! We loved Harrods in particular -the different floors were just fascinating and of course the famous Egyptian escalators. My daughter came out with her hair straightenened and chalks put in, nails painted and an arm tatoo! Not bad seeing as we didn't spend a penny in there!
3) The Tube
Again, I guess this is quite self explanatory. Kids. Trains. Ours loved trying to navigate the network and hopping off and on again. Word of warning though -not stroller friendly and keep an eye on the little ones! Our son tried to board another train straight after leaving one! Little tykes.
4) SNOG
Nope, I'm not suggesting you introduce your littlies to the world of french kissing. It's a frozen yoghurt chain that's really fun! There are a lot of flavours and toppings to choose from- our kids are always begging to go back!
5) Southbank
So as well as having various performing street artists, the London Eye, and an outdoor play area -this place also has stunning views over the river Thames. Sometimes, our favourite thing to do is just wander. And snap.
https://lotsofplanetshaveanorth.com/  suggested this museum amongst the many others in London – but this one was a firm favourite.
'The museum literally follows the history of London from prehistoric times through to modern day London. Without a doubt, our kids favourite section was the London Before London exhibit the best, with the bones of a mammoth jaw, and "caveman" artefacts.
They became entirely enthralled when they discovered that there had been excavations and discoveries, in places where they had been and experienced over the last year. It brought about a history of the place that was even more diverse than they imagined. Once ArgeySon learned that the London he knew hadn't always been there and that it had changed incredibly over time, he kept saying things like, "Imagine you were a caveman living near the Thames!" or, "Do you think a mammoth lived where our hotel is?"
The museum has a lovely diorama in a dark room which, with a film playing behind that talks through stories from the fire, lights up with the progression of the fire.
The museum often has a great number of events on, with special exhibits and vacation events, which all looked really interesting.  You will find more information at families visiting the museum of London. '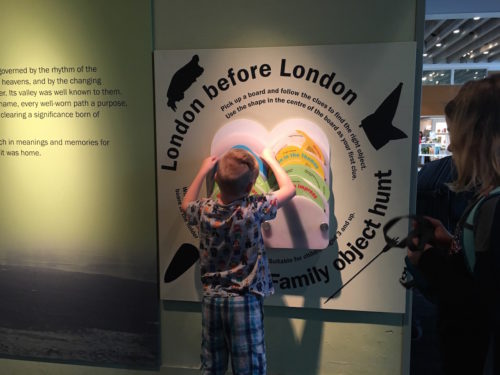 You can see their full blog post here
Erin from https://erinatlarge.com/ suggested this wonderful seven acre playground and park. Kids need open spaces, especially in a big city so this is a no-brainer.

'One of my favourite places when we lived in London and my son was small was Coram's fields. It's named after Captain Thomas Coram, who built a foundling's hospital on site in the 18th century. The hospital moved out of London and the buildings were mostly knocked down, but Londonders got together the money to make it the first public children's playground. You can still play there today. There are some grassy areas for picnics, a very reasonably priced cafe and washrooms with changing facilities.  It's a quiet little spot to catch your breath. It's not too far from the British Museum, in Bloomsbury. Closest tube is Russell Square.'

Emma from wanderlustandwetwipes.com recommends this gem.
'Our friend suggested Hampton Court Palace as they have an awesome maze and a new playground. Well, we didn't even have time to go to the maze becuase the 'Magic Garden' is so incredible! It's an enclosed space with friendly people on the gate so very safe for kids who run off/get lost. There are slides, splash fountains, a dragon to climb on, a sandpit with a river, an astroturf area for sitting rolling down hills…the kids were happy as clams for nearly 2 hours and only stopped becuase they were hungry!'
You can read the rest of their post here
Lena from Four on a world trip really enjoyed this museum and the wonderful educational opportunities it has to offer.
'We were scared off for a moment considering the high queue (my advise here; go either late of queue half an hour before the opening and you're all good) but worked out fine in the end. This meseum offers everything from skeletons to fishes, insects, birds, dinosaurs, stones, volvanoes, stars and suns, stones…short: evertything that nature has to offer is exposed and easily accessible. As we are lucky and never experienced an earthquake (knock on wood), Anton and me where totally excited about the room that (probably on a very low level_ simulated the Kobe Earthquake from 1995. We had to go there twice. And if we were not running out of time, it would have been thrice. My highlight there was the Dodo; even though it's just a replica, I found it quite cool and weirdly touching.'
You can read the rest of their blog post here
And last but not least, we have our little discovery whilst we were exploring Camden town. It's basically a cereal shop that has literally hundreds of choices of sugar-laden cereal. The whole cafe is decorated 80's style so was a little trip down memory lane for me and my hubby who were both 80s kids. They even have beds to eat your breakie on and the most amazing cereal art I have ever seen! Totes amaze.
Looking for free things to do in London with kids? Look no further than Shannan's wonderful post at Captivating compass.
Enjoyed this? Watch our youtube video of our London travels here
Want to read more on what to do in London? Check out Leona's post from http://www.wandermustfamily.com here