So you've booked a trip across the world with your small humans. You're all brimming with excitement as you picture the wonderful memories that will be built, and that wonderful feeling of sharing the world with your precious offspring. Problem is, the realisation the dawns upon you that in order to get to this place of dreams, you have to spend hours upon hours with said offspring in a confined space with lots of strangers, food that tastes of cardboard and a teeny tiny piece of hand luggage that has to contain ALL of your best distraction tools. You need tips. You need help.
So even though we haven't braved a flight to Australia yet, we did manage a red-eye 21 hour trip to Asia with our bundles of joy last year. So I thought I would compile a list of our top tips alongside those of some well-seasoned travellers.
Together, we can help you survive this pure hell that is long distance flights with little ones.
Warn and prepare your kids about the journey
So my first tip starts before you get to the airport. Obviously with very young kids it is hard to do this but I find that preparation is very effective in helping them manage kids expectations. If they have never been on a flight before/cannot remember their last flight it can be hard for them to visualise what it is like. Airplane books are fantastic for little ones, even better coupled with a toy airplane to get them involved with all the happenings in an airport and on flights.
2. Wear them out before they get on the plane.
An obvious one, but when you are stressed and tired you might overlook this. Some airports even offer free play areas for this exact reason. You can find a list of UK airports that have these facilities here
3. Wrapped Presents
Go to poundland/the dollar store. Buy tat. Wrap it up. Take new 'present' out every hour. The old favourite. But it WORKS! Our favourite items were every flavour jelly beans (great for dares!); window stickers, colouring books, a roll of sellotape and some pipe cleaners! Combine this with regular snacks and this eases the boredom.
Debbie from http://www.travelwiththegreens.com advocated stocking up on snacks for a long flight.
'I always take food for the kids so that they can eat when they want and therefore go to sleep when they need to instead of waiting for a meal.  Pack little sealer bags of snacks, go for dry, non messy food.  We like to take nuts, dry food, muesli bars, apples, crackers, soya crisps or packets of chips.  You are allowed to take food on the plane so do not stress over that.  On our last trip all food was extra so we picked up SUBWAY on the way to the airport and had it cut up into quarters.
You can read their whole post here
4. Stick to their routine
Try to stick as best to your routine as possible. Especially with younger kids, if we had a late or overnight flight, we would ensure they were in their PJs, and had their milk and story etc at the same time they would at home. Eating their meals at the same times also helps keep their body clocks on schedule.
5. Keep Warm
I don't know about anyone else, but I have never been colder than I have been on a long flight, especially when I am tired. Those blankets they give you are so thin and do very little. Pack extra blankets, extra layers and a small pillow for naptime (or is that being optimistic?)
6. Dress down
Forget trying to look good. You seriously won't care as the hours wear on and your sanity fades. Wear comfy, warm clothing. We take our shoes off straight after takeoff and I always travel in leggings and a baggy top. Those seats are the most uncomfortable thing known to man when you have spent 10 hours in them so dress accordingly!
7. Technology Accessories
Tavia from http://www.bigbravenomad.com found two of the best gadgets they used are dual charging ports for phones and devices and tablet mounts. You can check out their post here
Dual charging port -'Often my husband and I need to charge our phones at the same time OR we need to charge a phone and device simultaneously. Both of these are small and great for travel. We have one of each and I love how the wall chargers's prongs fold in!
Tablet mount -'We love having the iPad mounted on the tray table, it allows our daughter to watch movies on long trips, and this mount can be adjusted to fit many different tablets!'
8. Toy packs and sleep gadgets
Laura from http://themammafairy.com suggested 'keep em quiet packs' You can see their full blog post here
'Such a simple concept but oh so effective.  We received a pack for the relevant age groups for each of the boys.  They were really well received by the boys and contained a lovely selection of age appropriate items.  The big hits were the little tubs of play doh and for the oldest was a kit with which you could make cardboard models which he thoroughly enjoyed.  The littlest loved the Peppa stickers.  Im sure Aer Lingus are still peeling them off the seats! (sorry!!).  Im always running around at the last minute so these are ideal, the work is done and you are ready to go and all for a very reaonable price.'
Another recommendation from Laura, is the Jet Kids Bedbox.
'I had seen it on Twitter and loved the concept.  Its a ride on suitcase that opens out on the flight to transform the seat into a bed. Its really easy to use and very comfortable according to the 4 year old.  We got most use out of the ride on ability of it as my 4 year old (can be lazy) isnt so keen on walking!!! Despite the fact it contains the matress it holds quite a bit of stuff or in my little mans case, his teddy, his collection of transformers and his treats.  It is a little pricey at €159 however given how much we like travel and with the pair of them I really think I will get my moneys worth on this one. '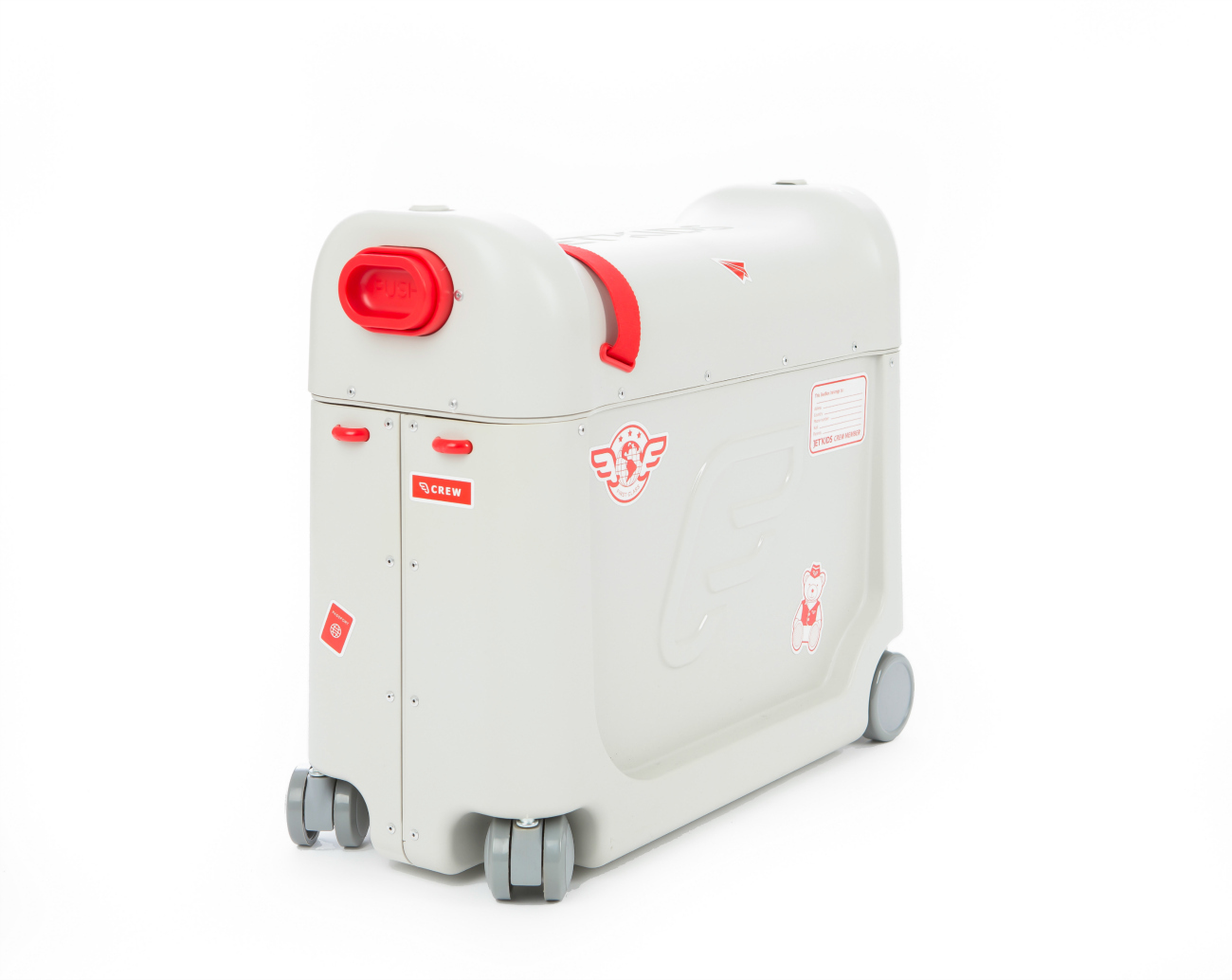 .
9. Travel Sling
Becky from https://incredibleislablog.wordpress.com/ recommended a good baby sling as an essential for travel, You can check out their post  here
'As usual, slings were the most used item we took! We packed both solarweave connectas, a ring sling and size 4 woven wrap. It was really handy for the journey and great to be hands free. Isla also napped in it each day.
10. Choose the right seats and get creative!
Jenny from https://travelynnfamily.com suggested getting bassinet seats on a flight as they provide more room.  You can check out their full blog post here.
'This should be possible if travelling with an under-2 and it will help if you arrive at check-in early, The baby/toddler can the play on the seat, while one parent glamorously sits on the floor. Suggested games include: seat-buckle game (locking and unlocking seat belt), the window shutter-up game (Up and down, Up and down…you get it.) and finally the advanced earphone-socket game (trying to get that jack into the socket.)
Jenny also suggested getting creative with items that are commonly found on the plane to avoid having to pack too many toys.
'We suggest: Sick bag puppets (draw on funny faces and put on a show; tower building (get some plastic cups from the cabin crew, decorate with stickers from sticker book and build), plastic straws and spoons (again from your favourite cabin crew member) are always a big hit with the weethers, make bracelets and necklaces from straws, the straw sucking game (tear up little pieces from inflight magazine and place in one plastic cup, pick one up by sucking through straw and transfer to another plastic cup)…There's so much more we could list.
I hope these suggestions have been helpful! Do you have any tips or suggestions that have worked for you?